Why is it that books with a Western theme are so appealing? Girls or boys - they all seem to love that cowboy theme. So I was thrilled when I found these two books in the
JM Cremps
booth at the
Homeschool Book Fair
earlier this month!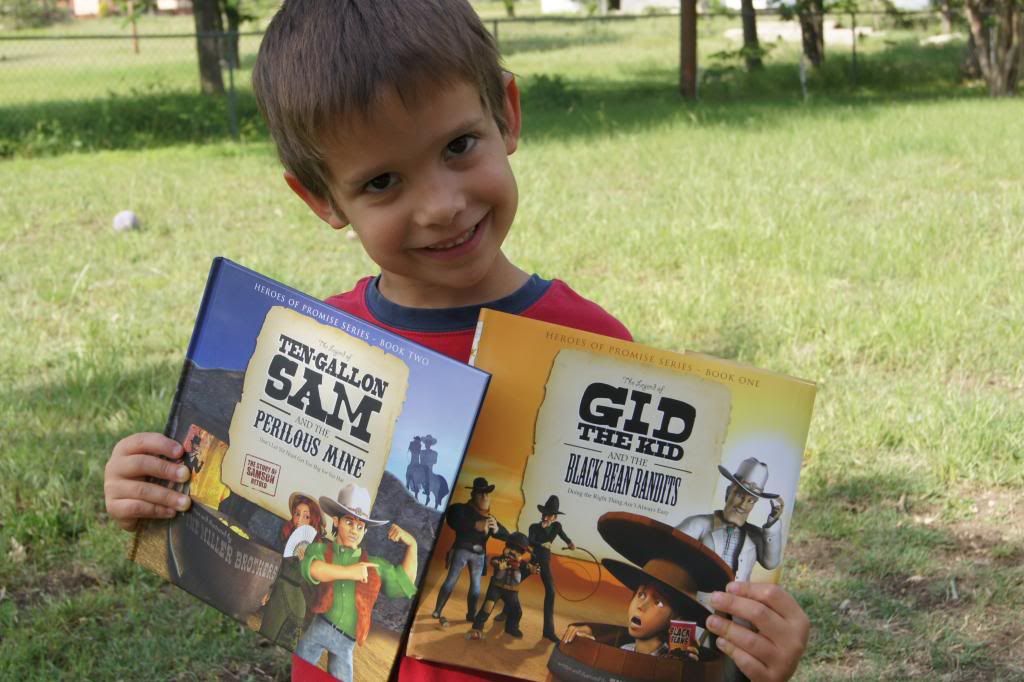 Ten Gallon Sam
and
Gid the Kid
are both from the Heroes of Promise Series. From cover to cover, they're stuffed with bright, computer-generated illustrations that give it a 3-D feel.
Christopher and Allan Miller (brothers) must have had a lot of rootin'-tootin' laughs putting these Western books together. They fit quite a few plot details and information into the rhyming text; as a result, there were times when I had to stop and explain a few things to my 4yo and 5yo, but they didn't seem to mind. Right now, these books are at the top of the favorite picture book list at our house. Thankfully, we also have lots of older kids who don't mind reading them when I get a little weary of cowboy vernacular.
Both stories take the basic plot of Biblical accounts (from the book of Judges --Ten Gallon Sam = Samson and Gid the Kid = Gideon). Then the Miller brothers give the true stories a big twist to make it Western.
I will say that I'm very careful to not mix up fictional accounts (like Veggie Tales) with true Bible stories and that applies to these books as well. This can be very, very confusing to young ones and I want to keep those distinctions quite clear for my children.
So, for reading these cowboy books to the kids, I focused on the great character traits that were exemplified: bravery, standing up for what is right, importance of choosing godly friends, and more. Then at the end of the book I said something like, "You know, this funny story kind of reminds me of the true story in the Bible about Gideon. He had to stand up for what was right even when everyone around him was fearful of the Midianites and worshipping idols."
The illustrations, rhyming text, and Western genre make these books very appealing to children - even my older kids had fun reading through them.
Recipes, talking points, and hidden creatures to look for in the books were all features that make these books even better.
Here are the links to buy these books from JM Cremps -
Gid the Kid
and the Black Bean Bandits ($7.95)
Ten Gallon Sam and the Perilous Mine
($7.95)
(Psssst . . . If you've bought picture books lately, you know these are fantastic prices for that genre! Well worth buying!)
Note: JM Cremps did not initiate this review. I just bought the books myself and wanted to let you know all about them!