"Christian DVDs changing lives now and for eternity" is the motto of
New Liberty Videos
and recently we had the privilege of reviewing one of their DVDs:
The Forbidden Book
.
The Forbidden Book
is a 60 minute DVD that tells the story of remarkably brave men like Wycliffe, Tyndale, and Luther who were committed to making Scripture accessible for everyone - even while risking their own lives.
These men are truly heroes of our faith and although we are very familiar with these men, our entire family learned from this fascinating documentary. The history of the English Bible is one that really resonates with our family since we actually work with Wycliffe Associates. Getting Scripture into the hands of those who are without is what we are committed to, so this DVD in particular piqued our interest.
In addition to men like Wycliffe, Tyndale, and Luther, this documentary also covers church history like Erasmus, the printing press, Greek manuscripts, martyrs, the Geneva and King James Bibles, and the Bible in America.

What the Kids Thought:
I liked how the DVD was put together because it really followed the theme of how God worked through the preservation of the Bible in history. The sovereignty of God and the indestructibility of God's Word was obvious throughout the entire video. Everything built up to the one point until William Tyndale translated the Bible into English and how that led to the Reformation. I saw how important the Reformation was because of all the people that had struggled and died for the sake of God's Word. (14 year old daughter)
I thought it was interesting how many people tried to stop the progress of God's Word being translated and distributed to the people. But the DVD clearly showed how people tried - yet failed - to prevent it from being translated. It talked about how Wycliffe would teach at a college and the students copied all of his lectures by hand - this was even before the printing press. Those lecture notes became like ammunition though that was used against them by the church in Rome. The established church was trying to stop what Wycliffe was doing. (17 year old son)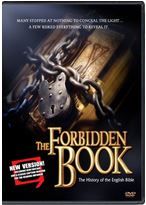 I found it interesting that so many people gave their lives for the sake of having God's Word translated into a language that the common people could understand. (13 year old son)
Here's a great quote from the end of the DVD and so fitting for our times:
"It is impossible to mentally or socially enslave a Bible-reading people."
-Horace Greeley (1852)
Teaching Origins Objectively
,
Mysteries of the Dead Sea Scrolls
, and
A Nation Adrift
are just some of the DVDs available from New Liberty. Check out their website to find out more and even to watch brief clips.
Ages:
For the entire family! You may want to preview some DVDs from New Liberty first if you feel the subject matter is too serious for your children.
DVD Price:
$19.95
Take the time to read other
Schoolhouse Review Crew reviews
on New Liberty Videos.