Apologia Educational Ministries
is a vendor that we have grown to trust over the years. While we have mostly used their science materials in the past, we were excited to see that they have a new series out for children that help develop their Christian worldview: the iWitness series by Doug Powell.
For my review, I received the following books:
iWitness Biblical Archaeology
New Testament iWitness
Old Testament iWitness
The first thing I noticed about the books is their size. Despite the big subject matter, the 6 inch x 9 inch books are non-intimidating. Each softcover book is full of fascinating graphics and limited text which cover the subject adequately without being overwhelming. Check out
this interview with author Doug Powell for more information.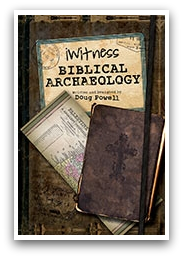 Old Testament iWitness
This provided an excellent summary of the OT books. It provided historical explanations for the different manuscripts. In addition to information about the original manuscripts, it also gives details about Latin Vulgate, Septuagint, and other ancient documents used for sources. Powell gives the best simplified version I've ever heard for how the Old Testament came into existence and how the canon was formed. Many Christians limit their Bible study to the New Testament only. But a book like this can get young people started on understanding the Old Testament so they have a better grasp and a hunger to jump in and read it for themselves.
I appreciate how they distinguish the books of the Apocrypha as not being scriptural but used within the Catholic church and Greek Orthodox.
Some specific areas I'd like to highlight about the OT iWitness book: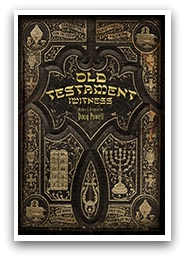 *The introduction mentions how Christ is the fulfillment of OT promises and "He himself is the fulfillment of the law". I couldn't agree more. If we don't have a comprehensive grasp of the Old Testament we can never fully grasp the truths behind - and the necessity of - the Gospel.
*Canon Criteria/Canon Formation - This sections focus on why certain books are included and what the process was. This is critical for our children to understand from the perspective of apologetics (knowing why you believe what you believe!).
*Timeline - At the back of the book, Powell includes a timeline which highlights major OT events, prophets, and kings. This is a quick, handy reference that I will definitely continue using.
New Testament iWitness
Powell does a great job of giving a summary of NT books. I felt like it was easier to read than the Old Testament iWitness. The layout seemed more open, while the text of the OT book seemed to be too tightly packed. I think it would have been better to add a couple pages to the OT book rather than making the text seem rather dense from a visual perspective. Small detail though. Another small detail is that the creative fonts made legibility more difficult; however I understand that it fits in with the style of the books.
The Canon Criteria section, like in the OT book, succinctly explains what things were required for a book to be included in the NT.
There were a number of great graphics throughout the book - like how the NT was copied and how many copies of the NT exist vs other historical books - that really complement the text well.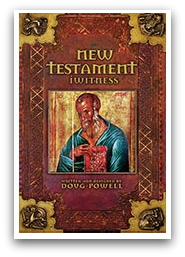 iWitness Biblical Archaeology
Powell does a fantastic job in the introduction at explaining something that some Christians fail to grasp: archaeological finds can
support
the accuracy of the Bible's history but they can never
prove
that the Bible is true. That's because all archaeology is being done by man's fallible hands. So when some current discovery seems to contradict what the Bible says, we have to keep in mind that God's Word is the absolute standard, not man.
This book is one that I want to show my archaeologist brother-in-law who actually has replicas of some of the artifacts pictured in the book. (including Caiaphas' ossuary which sits in my sister's house -- pretty cool!)
I did feel that Powell got a little carried away with the shroud at the end, but otherwise I think he did an excellent job with the subject matter.
How should you use these three books?
While age 11 and up can read these independently, I really think they're best read as a family. With that approach you'll be able to discuss it as a family - and I know in our family that when we discuss it in a group we hear a lot of perspectives and questions that we wouldn't get otherwise. I have some kids that will read a book, have a question, and by the time I ask them what they read, they forget their questions! So take the time to read these three books as a family.
As Christian parents, we know that this is a frightening world in which our children are being raised. We need to be proactive about giving them tools to defend their faith and the knowledge to confidently face the world. Apologia is a great place to find resources and I'm glad to see that the iWitness series continues their great reputation for providing Christian apologetics that are accessible for the entire family.
Ages:
Reading level is ages 11 and up, but it can be read aloud to the entire family.
Price:
$14 each
Find Apologia at:
Facebook –
https://www.facebook.com/apologiaworld
Twitter –
https://twitter.com/apologiaworld
Google+ -
https://plus.google.com/105053356034237782125/posts
Pinterest –
http://www.pinterest.com/apologia/
And find more
iWitness reviews at the Schoolhouse Review Crew
.