While I try to usually keep things light and happy on this blog - I feel there are so many weighty things in the news these days and I like there to be something upbeat for you to read - today is a less than "light and happy day".
"Teach us to number our days,
That we may apply to Thee a heart of wisdom."
Last week, two servants of God left this world and are now spending eternity with the Savior they loved and served. I never met the first one, but the second one I had the privilege of knowing briefly in the two years prior to his death.
1. Elisée
Zama
was a national Bible translator in Central African Republic until he was gunned down last week. He was trying to get his wife and three kids to safety. CAR has been a place of turmoil for over a year now as fighting continues between the rebels and the government - and, as is often the case, Christians are caught in the middle.
While we have known of this situation for some time because of some dear Bible translator friends of ours who serve in the CAR, I was pleased to see on the national news
the article
explaining it in more detail; sometimes getting attention from the US media can be helpful in reaching a resolution.
SELEKA (ISLAMIC) REBELS IN BANGUI THIS PAST WEEKEND Credit: AP Photo/Jerome Delay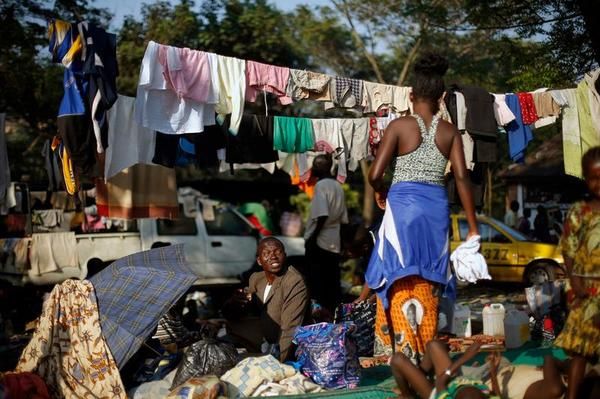 DISPLACED CHRISTIANS IN BANGUI, CENTRAL AFRICAN REPUBLIC Credit: AP Photo/Jerome Delay
Don't let a tragedy like this be in vain -- locate a world map, show your children where the Central African Republic is (it's right smack in the middle of Africa!) and locate Bangui. Talk about the Bible translators that are working there.
Some, like our dear friends, the H family, had to leave the country as a result of the violence; others are not able to leave and have suffered. Pray for the people in CAR who are still waiting for Scripture in their language. Pray for the family of Mr. Zama. Pray for the Bible translators - both national and others, like the H family - who are deeply affected by this.
*********
2. Don Johnson
- This past weekend a dear faithful man of God passed away here in Dallas and is now celebrating in glory. Don Johnson is one of the missionaries that I interviewed for
Seed Sowers
. At the time, his speech was very limited because of Lou Gehrig's disease. So last week, the disease won the battle over his body, but thank God that our souls are eternal and Don is in heaven now. Don's story was significant because he was on the search team for the five missionaries - Pete Fleming, Nate Saint, Roger Youderian, Ed McCully, and Jim Elliot - who were killed in Ecuador in 1956. Obviously the men on the search team only found bodies and were given the task of burying their friends.
While this is probably the most famous story of martyrdom in recent history, it's not just a story to people like Don Johnson. When I interviewed him and his wife Helen in 2012, he had tears in his eyes as he told me about the life-changing experience, the incredible overwhelming emotions, but the confidence in knowing that God was still in control. There were tears in my eyes too when he showed me his little, handmade, red journal in which he had pencilled details of their search to find the men. Talk about a significant piece of history.
One of our children pointed out this weekend that now Mr. Johnson was in heaven with his five friends! What a glorious thought. But if you think of it, do pray for his wife, Helen, and other people who are mourning the death of this godly man.
Both he and his wife were faithful, soft-spoken, gracious people that I feel privileged to have known.
********
While I don't think we should tell our children of everything we read in the news, I do think it is important that have a realistic view of this world. Sometimes it's easy to teach children, "Accept Jesus! He loves you! He has a wonderful plan for your life!" Yet we fail to teach that following Christ means sacrifice.
That has a very real meaning to the families of the five martyrs in Ecuador nearly sixty years ago, yet Christian martyrdom continues as we see in the CAR and many other parts of the world.
The verse at the top - Psalm 90:12 - is a beautiful one to remember as we consider the lives of Mr. Zama, Mr. Johnson, and the five missionaries. Their lives were not in vain, not wasted. Those are the people who can truly stand before God knowing that they were faithful to the end.