Do you want to train and challenge your children to think beyond multiple choice questions and improve their comprehension skills? The people at
The Critical Thinking Co.
publish curriculum for that exact purpose.
The Critical Thinking Co.™is committed to developing students' critical thinking skills for better grades, higher test scores, and success in life. We do not teach through drill and memorization or teach to the tests - we empower the mind!
I recently reviewed
World History Detective Book One
- I received the 362-page, softcover, physical book. It's intended for grades 6-12 and I used it with my daughter in 9th grade and my son in 11th grade. Seventy-eight lessons are included in this book. This book can be used as a standalone text book and that's how we used it. But it can also be used as a supplement or as a review course for older students.
This covers prehistory, ancient, medieval, and early American civilizations. The intention is to help the student learn to think critically - not just to find the right answer and fill in the blank. This company is committed to making your children better problem solvers and I believe they do it very effectively.
Let's take Lesson 19 for example: Ancient Greece: Sparta. The top of the page has a map showing the area of the world which is covered in the reading. Sparta is in southern Greece so it shows that part of the world in addition to the Persian Empire, Black Sea, etc. I do like to have my kids identify where these things are on our large wall world map if I'm not certain that they are sketchy on the geography. We spend a lot of time with geography and how it ties into all of our studies; I believe it's important to not see it as an isolated subject.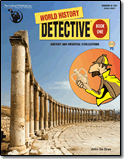 While there is only one page of reading, it's detailed and not something that could be skimmed. The bottom of the page displays a diagram which explains the different branches of the Spartan government.
The next page of Lesson 19 has multiple choice questions - pretty standard fare. However, this book is different (and better, in my opinion) than your usual history studies because it asks the student to tell which sentences in their reading best support the answer.
The next page of Lesson 19 has a Venn diagram for Sparta and Athens (from Lesson 18) and the final page of the lesson has what is called a concept map. Both of these pages were more challenging for my kids and required more thought. My eldest does well with clear-cut black and white answers so this was a great challenge for him especially.
Other lessons provide the students with opportunities to give essay evidence (helping with their writing skills), draw inferences and conclusions, and distinguish between fact and opinion. Timelines and maps throughout the book greatly enhance the material being taught. For the most part, I had my kids do this book independently with little interaction from me. Occasionally I had them work on a lesson together - my two oldest kids are very different in their learning styles and methods of thinking so it really helps them think from a different perspective when they are required to work in tandem.
My one criticism in the lessons that we have completed is in the earlier sections - prehistory to Neanderthals and early modern humans. The kids pretty quickly identified that the facts presented are contrary to what we believe the Bible says, but at their age it's good to learn discernment so it was a good opportunity for further discussion as to what we believe God's Word says.
There is an answer key in the back of the book, and with perforated pages, it would be easy to remove it for your own sake. However, I kept them in because we really stress to our children that I'm not teaching so they achieve a certain grade but so they are actually learning. For most of the lessons I had them self-check. Obviously, this is something that has to be done after they've earned your trust, but it is something which I think benefits them in many ways. Most of all, it teaches them to accomplish something for the sake of doing it well and to truly learn from it.
Critical Thinking has a vast number of resources available for kids of all ages. This book is available for $34.99.