See all those little (and big!) faces at the top of my blog? Yep, it
takes
a lot of time to
make
time for all eight of them. That said, I'm a firm believer in the adage that...
You have time for everything that is important to you.
So if it's important to you to watch all the evening reality TV shows, you'll have time for that.
If it's important to you to keep up on every Facebook post, you'll have time for that.
If it's important to you to spend quality, individual time with your kids (even when there's a houseful of 'em) you'll have time for that too.
Here's how it works at our house: (or the ideal of how it's supposed to usually look)
1.
Date Night!
When one of our kids finishes something significant (a math book, obedience chart, etc), I take them on a date. One on one - just me and one of our kids - it's a great thing. At least, that's how it was supposed to work until my hubby realized that I was getting a night out to Dairy Queen or Braum's (how can I argue when the kids choose a place I love?).
So now John and I rotate as to who takes the kids out. But regardless of which parent gets to eat nachos and rocky road ice cream while spending uninterrupted time with just one child, everybody wins.
These date nights are great motivation for completing something that's difficult (like a math book) and they're also wonderful for bonding time.
Even though date nights happen just once every couple months, that special time is one my kids talk about long afterwards.
2. Read-Alouds!
Undoubtedly, my favorite way to spend individual time with my kids is my reading together. Nearly every day, I sit down and read picture books to my little ones. I suffer from mom-guilt that there are days that get missed, but usually they are read to frequently.
However,
it doesn't end once they become proficient readers
. Even my 15yo and 12yo, who have been reading well since they were four years old, have chapter books that we are reading together.
Right now, it's
Man of the Family
(the Ralph Moody book that follows
Little Britches
) with my oldest son and a Lillian Trasher bio with my oldest girl. I'm also going through a David Livingstone bio with my 11yo son and
Irish Red
(Jim Kjelgaard) with my 9yo daughter and even though my 7yo is still working on her reading proficiency, she's beyond picture books, so we're starting the Laura Ingalls Wilder series together. (click on the "From our Bookshelf" tab at the top of this page to find out more books we're reading)
I try to read to each of my older kids individually 4-5 times a week. If it's been awhile, they'll remind me, which is evidence that it's not just me who likes that reading time!
I love having that common bond that is naturally shared when you share a good book together.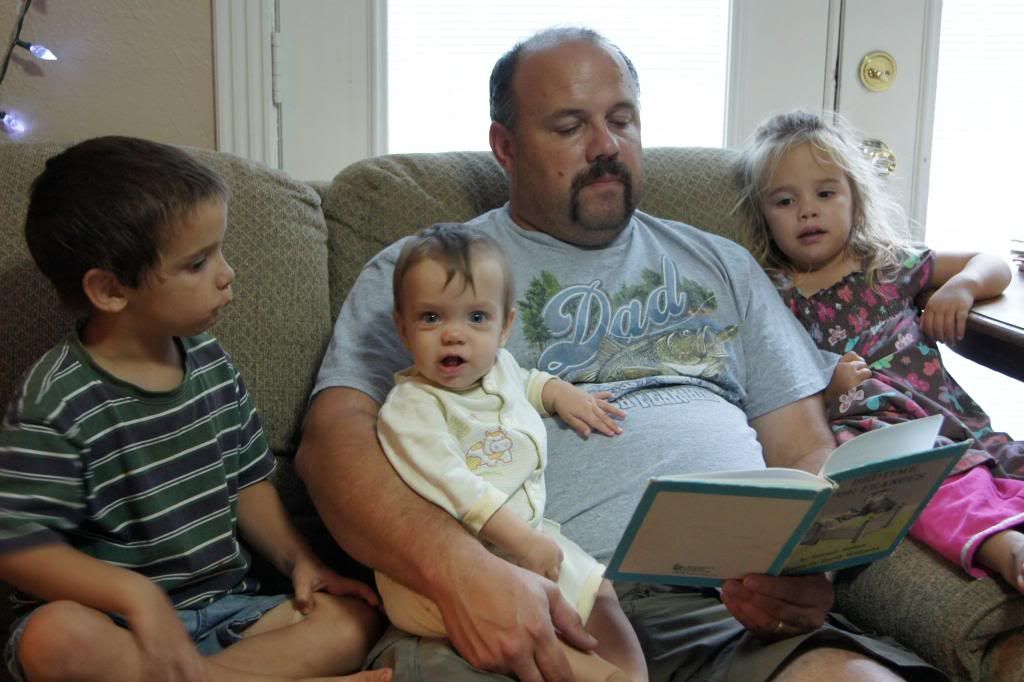 Well, sometimes it's three-on-one. :)
3. Working Together!
Sometimes I make a point of asking a child if they have anything they want to talk about. But often these conversations just come up naturally when we're alone - like working in the kitchen together. Or while building a two-tiered treehouse with a swinging jungle bridge and a twisty slide.
Okay, so the latter task was John working with the kids. But whether it's with Dad or Mom, the kids love working with us - it's so much better than just being assigned a job on their own - and it often brings up the opportunity for the child to talk with us about something that's been on their mind.
Tell me - how do you make time for your kids individually?
"Teach us to number our days that we apply to Thee a heart of wisdom." Psalm 90:12 (KJV)
(Read more How To's from other moms at the
Crew blog!
)